Free and Clear Skin
Be free! Clear skin awaits you at Crescent Moon Skin Care Clinic in San Francisco.
Have you tried every acne product on the market? Gone to your dermatologist and been on prescriptions medications, even Accutane, and you are still breaking out? I have the knowledge to help you achieve a beautifully clear complexion.
You can have skin you are proud to show the world
Over the years I've seen how acne affects each person's skin differently. Each person requires different home care products and in-office acne treatment plans to get clear. Let me assess your individual skin care needs and customize a clear skin treatment plan that works for you!
---
The Clear Skin Program
Make the commitment. Heal your acne. Clear your skin.
Receive professional facial treatments every 2 weeks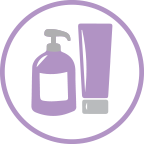 Take home your customized home care product regimen
And you're on your way to clear skin in 90 days
---
Acne Information Center
Learn about acne's various causes, new treatments and cures it from our expert